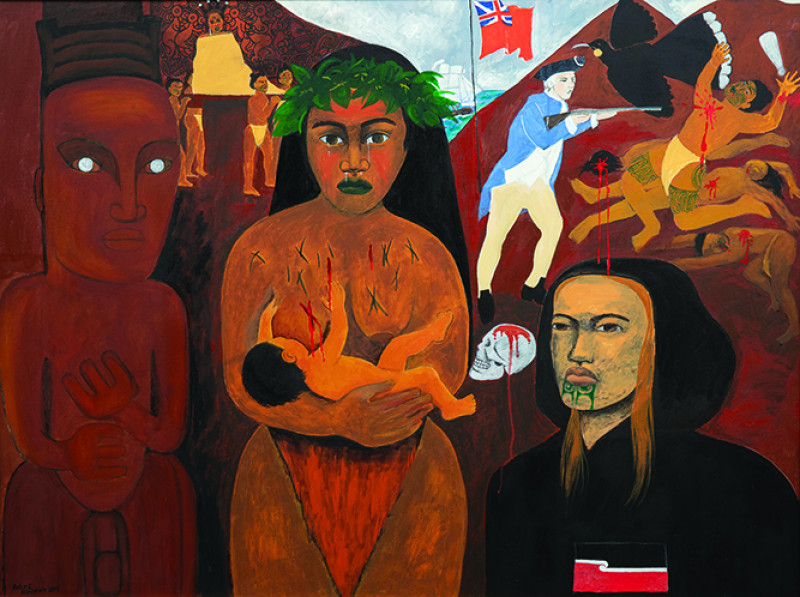 Artworks of national significance by Harry Bartle
It's not often that works from one of the most prestigious private art collections in Aotearoa go on display for public viewing. Open until the 11th of December at New Zealand Portrait Gallery Te Pūkenga Whakaata, Gathered Voices: Highlights of the Fletcher Trust Collection presents 18 portrait and figure-based works from the iconic art collection.
The exhibition is partly a celebration of the 60th anniversary of what was originally a cooperative collection founded within Fletcher Holdings in 1962. The extensive assemblage now contains over 500 pieces of art that hold national significance. Known for its landscape paintings and abstract works, it has long featured important figure-based pictures as well.
The collection's curator Francis McWhannell took on the difficult task of choosing just 18 works to include in the exhibition, saying his key aim was to show "high-quality works expressive of a range of experiences and perspectives".
"Given that it was to take place at Te Pūkenga Whakaata, it made sense to focus on portraits. For a while now, we have been working to texture the Fletcher Trust Collection so that it has a robust core of works by ringatoi Māori, and so that it better reflects the diverse communities that call Aotearoa home, including tauiwi [non-Māori] of non-European heritage and takatāpui and LGBTQIA+ people."
The oldest work on display is E Rangi and E Tohi, Girls of Port Nicholson, with Kiko, an Old Woman of Tiakiwai by British explorer George French Angas. Painted in 1844, it shows two young Māori girls and an older Māori woman wrapped in blankets inside a hut. It is considered an embodiment of ancestors from Te Whanganui-a-Tara. Similarly, Richard Aldworth Oliver's Te Rangihaeata, Chief of Ngāti Toa from about 1850 is also connected to mana whenua from Wellington.
While the earliest works in the show come from a period of colonisation and are by Pākehā, McWhannell wanted to acknowledge the fact that many of Aotearoa's histories occurred long before colonisation. Works such as Robyn Kahukiwa's Invasion from 2019 and Emily Karaka's Moe Mai Rā, Tohorā from 2021 include depictions from before the arrival of tauiwi.
While browsing Gathered Voices viewers will also come across works by other acclaimed New Zealand artists such as Rita Angus, Star Gossage, Ian Scott, Michael Smither, and Ayesha Green. Over half of the works on show were acquired by Fletcher Trust during the last three years.
"It is important to us to raise awareness of the collection", McWhannell notes after referencing the special anniversary.
"We want people within the art world to know that works are available to borrow (for inclusion in shows), and we want members of the general public to be aware that the collection can be explored on our website, which grows and deepens every day."
Hosted on the websites of the Fletcher Trust Collection and the New Zealand Portrait Gallery Te Pūkenga Whakaata, a selection of videos will sit alongside Gathered Voices.