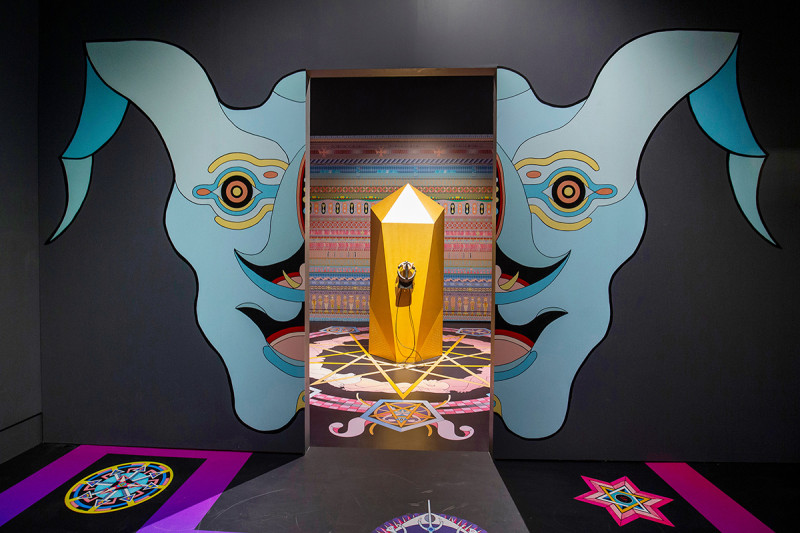 Artist and animator join forces by Sam Hollis
As technology advances, possibilities for artists become more and more limitless. In Terminus, geometric patterns, humanoid bodies, and alien structures form an immersive choose-your-own-adventure virtual reality (VR) experience, on at The Dowse Art Museum until the 21st of March.
The fantasy environments of Terminus were based on the drawings of Tauranga-born artist Jess Johnson. Her intoxicating worlds appear to be the lovechild of H. R. Giger and Philip K. Dick – surreal yet seductive, mechanical but detached from reality. Johnson collaborated with animator Simon Ward to take her drawings off the page and into a three-dimensional digital space.
Terminus takes viewers on a trip through five realms – and trip is a fitting description. Each is housed within bespoke structures with surrounding video projections, explored via a network of travellators and gateways.
Originally commissioned by the National Gallery of Australia and The Balnaves Foundation, the exhibition has been redesigned for The Dowse. Director Karl Chitham says the artwork will "leave many of our visitors in awe."
"It's an out-of-this-world experience that melds immersive interactive technologies with contemporary art."
With their pioneering use of VR, Johnson and Ward are unique among contemporary art practitioners. Johnson says she is excited about the future of the technology.
"In the hands of artists, virtual reality technology has the potential to explode into new genres and artforms. As an artist working in VR, I'm really excited by the psychological implications of being able to position an audience directly within my artwork."